News
czwartek, 11 Lipiec 2019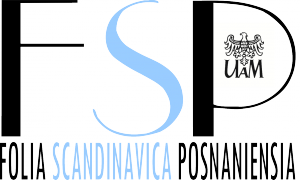 CALL FOR PAPERS
We would like to invite you to contribute to volume 27 of Folia Scandinavica Posnaniensia. It will be guest edited by Mikołaj Sobkowiak (Adam Mickiewicz University in Poznań) and Juni Sødeberg Arnfast (University of Copenhagen).
We especially encourage contributions from those of you whose research deals with the acquisition of Scandinavian/Nordic languages by learners with roots in Eastern and South-Eastern Europe, although contributions on all topics related to Scandinavian/Nordic languages as second and foreign languages are welcome. The publication languages are English, Danish, Swedish, Norwegian and German.
The submitted papers will undergo a double-blind peer review process. Authors of papers submitted to this special issue may be asked to review another submission. The submission deadline is October 10, 2019. Details regarding formatting will be available on our website no later than mid-July.